SHIPPING
I ship from Sweden, Europe. Me and my shipping partner ship orders weekly, but please understand that I run a small business with limited time and assets, and allow up to 4-6 weeks* to receive your order. Overseas orders may take longer depending on transit times to your country.


*COVID19

Since the outbreak of Covid19 the shipping time to North America, South America and Australia has increased significantly. Sadly it is also inconsistent so it's difficult to say how long you have to wait for your parcel, this is mostly due to parcels being hold up by the US customs whom have been over encumbered with online orders (See more on how merchandise travel travels through customs below) - but having to wait up to 8 weeks for your parcel to arrive seems to be a new normal at the moment.

If you've ordered a poster these might take longer to show up than postcards, due to being shipped in a tube which gets thoroughly searched by the Customs.


HOW THE PRODUCTS ARE SHIPPED

Posters are shipped rolled up in sturdy tubes. Prints and stickers are packaged in plastic sleeves and shipped flat in rigid envelopes. Framed original works are wrapped up in bubble wrap and boxed, and shipped insured. If you order different kinds of products, they are shipped separately and may arrive at separate times.


EU ORDERS

Shipping is via ground and not by air, so estimated delivery time is about 2 - 2,5 weeks from the day we ship. You will receive an email notifying you when we have shipped your order.


NON-EU ORDERS
I ship to Europe, Australia, New Zealand and the American continents - due to transits and the time it takes for your local Customs office to check oversea shipments, I am unable to provide estimated shipping times for destinations outside of Europe.
North and South American customers: Your orders will travel through Customs. Merchandise shipped through the international postal service is forwarded upon its arrival in the United States to one of U.S. Customs and Border Protection International Mail Branches for clearance. There they go over the parcels, assess the proper duty, and release them for delivery. We attach a Customs and Border Protection Declaration Form to the outside of the package to speed up this process, but it still varies how long time it may take them to handle your order.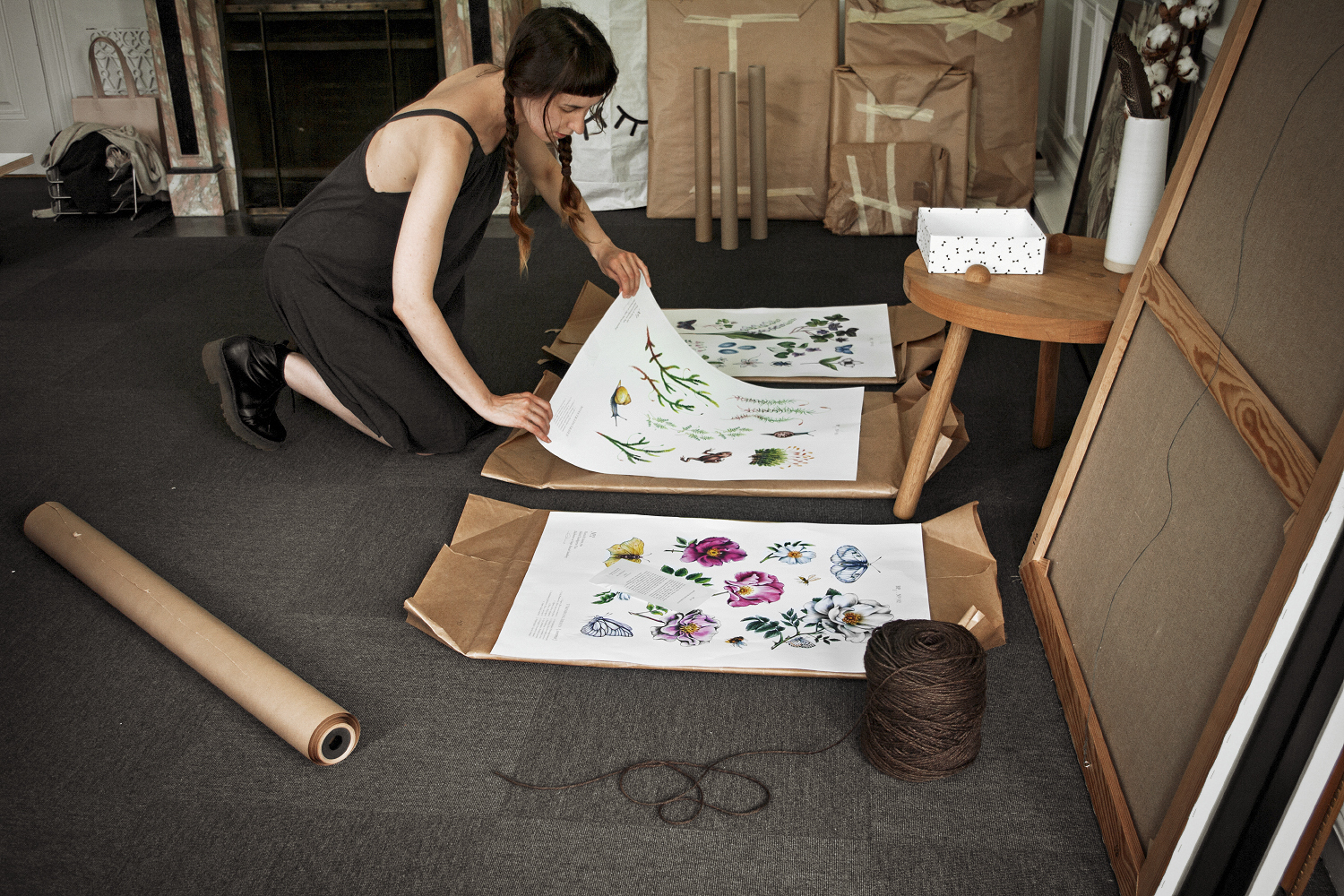 PACKAGING
Posters are shipped rolled up in sturdy tubes. Prints are packaged in plastic sleeves* and shipped flat in rigid envelopes. If you order both kinds, they are shipped separately and may arrive at separate times.
All my packaging is made from 100% recycled materials. My polythene bags are made from recycled shopping bags and my poster tubes are made from recycled cardboard boxes. Please reuse or recycle the packaging after receiving your order.
Some of the materials we use are even upcycled from bigger chains, we gather used wrapping material donated from shops and reuse it. I strongly believe in sustainability and recycling.

*Water resistant sleeves is a necessity because parcels may be exposed to weather and moist conditions during their shipping. I ship prints which gets destroyed if not protected.


RETURNS
If you receive a damaged or defective item, please let me know so we can offer you a replacement or refund. Please attach a photo of the damaged product and of the damaged packaging so I can forward this to my postal service. Either use the mail form here in this webshop, or email us directly at sagamariahdesign@gmail.com
If you would like to cancel an order that has already been shipped, you will unfortunately still have to receive this order and then proceed to send it in return to me before being refunded. Contact me at sagamariahdesign@gmail.com about this request.
LOST SHIPMENT
If shipping seems to take it's sweet time, it is usually waiting to be released for delivery at the Customs office. In the unusual case that your order seems to have been lost in transit, please contact us so we can sort it out. Either use the mail form here in this webshop, or email us directly at sagamariahdesign@gmail.com